Leonard's Lament
"Another day I'm stuck here
Another day goes by.Another day I ask myself
Why do I even try?

These shitheads all around me
They poke, and prod, and pry
Sometimes I wish that I'd just die.

My nine-to-five is filled with misery. My girlfriend's always such a bitch to me.
I think my death count's pushing three.
I just don't get how this is hard to see.
And as I lie awake at night...

I just want to die.

Oh please, you're overly-dramatic.
You're clearly asymptomatic!
Your life is hardly that traumatic.
But your girlfriend is half aquatic.
You know I think I changed my mind

I wish you'd all die.

Living here's not going well
This canyon's my detention cell
I feel the need to scream and yell
I wish that you'd all burn in hell!"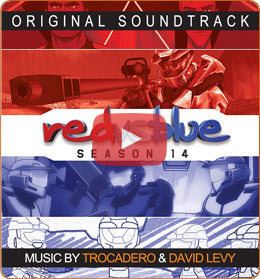 This song is from the album Red vs. Blue Season 14 Soundtrack.

From RVB14E18. This tune is brooding, introspective counterpoint to the upbeat and exuberant Red Rockets. Again, Miles and I wrote and recorded the vocals here in Seattle over a long weekend, and then the demo was sent for the cast to record in Austin under Miles' direction.

We'd agreed early on that we wouldn't tune any of the vocals to keep everything authentic. It's a challenge for any actor to sing in character, and because ballads are brutally unforgiving, Burnie Burns probably had the toughest job of anyone involved in the musical.

Much of blue team is also featured in the tune: Jason Salda-a, Joel Heyman, Yomary Cruz, and Matt Hullum as Doc.