Hateglue
This is an instrumental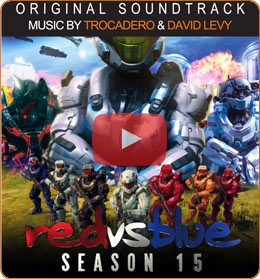 This song is from the album Red vs Blue Season 15 Soundtrack.

Hateglue was written for RVB15E06 but showed up in later parts as well. The sections aim to underscore Grif's frustration, anger, acceptance, and resolve. The last minute of that episode, with Grif walking away and the beautiful Halo backdrop with the sun and the mountain is one of my favorite moments in Season 15.

The tune is guitar based, with the Fenders and Danelectros playing off each other, almost like a guitar quartet: the UB2 baritone and Companion's single coil lipstick pickups contrast the Telecaster Deluxe and Bass VI's Seth Lover Wide Range humbuckers.
You know, I liked them better when they were funny.